Tekenen bij de buren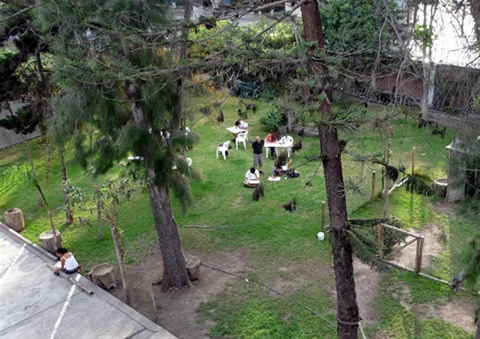 's Avonds zitten ze met stoelen op het gras. Ingespannen turen ze naar een auto in het afnemende licht. Zelfs vanaf het dak kun je de concentratie voelen. Een workshop tekenen bij de kunstenaar Raymond Chavez .
Het is geen gewone workshop. De opdrachten worden begeleid door teksten en aan het einde wordt er naar de tekeningen gekeken door een groep kunstenaars en kunstcritici. Tekentechnische aspecten psychologische betekenis, alles komt aan bod. De deelnemers zijn kunstenaars hobbyisten en kunst-studenten.. De workshop duurt vijf dagen en is niet goedkoop. Je maakt lange dagen. Het moet je iets waard zijn.
Natuurlijk willen we ook meedoen. Helaas kunnen we maar 1 dag vrijmaken. Het kan, op voorwaarde dat we ons aanpassen. Donderdag 14 februari, hier 'dia de amistad', dag van de vriendschap. De oefening van vandaag is, heel toepasselijk, voor tweetallen. De opdracht is simpel: teken wat de ander ziet. Bart kijkt naar een tekening die achter Klaar hangt en vertelt Klaar hoe ze die moet natekenen. Raymond zegt op voorhand: "This exercise can mary you or divorce you" Na anderhalf uur zwoegen en frustratie blijk ik een schetsje van Willem de Kooning te hebben gekopieerd: woman, seated. Achteraf aardig gelukt. Het is wonderlijk hoe een geconcentreerde schetsbeweging perfect samenhangend is als je hem ziet. Eenvoudig te volgen is als je hem kopieert. Maar wanneer je zonder zicht instructies moet volgen raakt het kant nog wal. "Nu doe een soort papaya maar dan met een punt, dat is de linkerborst dus." Omgekeerd is instructies geven ook verrassend lastig en inspannend. Misschien is iedere vertaling van blik naar woordelijke instructie wel zo stroef, maar valt dat normaal niet zo op.
Wat tijdens het proces hopeloos lijkt valt achteraf toch reuze mee. Het zijn geen goede kopieen maar wel aardige plattegronden van de originelen. We gaan het thuis nog een keer doen. Leiderschap stijl oefenen.
People are the planner/ el Pueblo es el planner)
 Workshop/ Taller
by Bart Stuart Klaar van der Lippe artist/activist/ architect from Amsterdam
Wednesday 6th of february at 9.00 am at Tupac.
language/idioma english/castellano

Reclaiming the city: how citizens can create the new city.
After decades of city planning through economy: "money is the planner", it is now time to make changes: the people are the planner.
Klaar & Bart have years of experience in creating public spaces in Amsterdam and want to
work together with citizens of Lima to make strategies for the new city.

Program for Wednesday 6th of February:
location: roof terrace at Tupac.
Start at 9.00 with 'who is who'
excursion and urban pick nick.
Sharing ideas and making strategies
Work on concrete plans.

Come and work with us!!

Bart&Klaar....
and Giuseppe from Tupac.